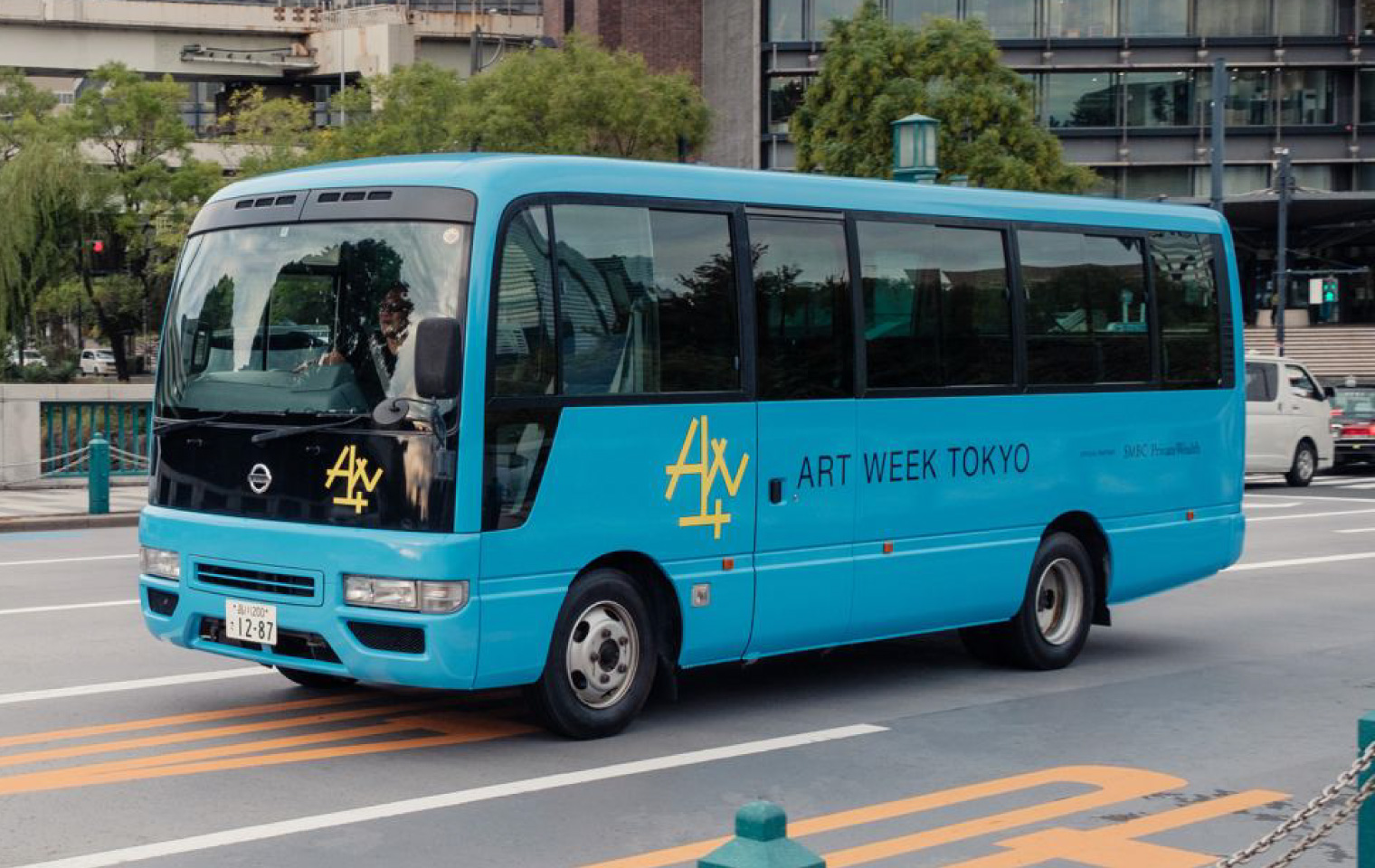 RIDE THE AWT BUS
All Art Week Tokyo venues are connected by special bus service across six routes. Buses run every 15 minutes between 10am and 6pm and may be boarded/disembarked at any stop.

Show your AWT PASS app to ride the bus. Available to download for free from September, the app also features customizable maps and real-time bus tracking.
*Measures to prevent the spread of Covid-19 infection will be implemented on all buses, including ventilation, provision of disinfectant, and spaced seating. All personnel will wear face masks and regularly disinfect their hands.
Route A
A1
TOKYO METROPOLITAN TEIEN ART MUSEUM
Meguro
A2
TAKURO SOMEYA CONTEMPORARY ART
Tennozu
A4
KAIKAI KIKI GALLERY
Hiroo
A5
TAKA ISHII GALLERY
Roppongi
YUTAKA KIKUTAKE GALLERY
Roppongi
YUMIKO CHIBA ASSOCIATES
Roppongi
Route B
B1
TOKYO PHOTOGRAPHIC ART MUSEUM
Ebisu
B4
INFORMATION CENTER / AWT BAR
Omotesando
B5
FERGUS MCCAFFREY TOKYO
Omotesando
B6
MAHO KUBOTA GALLERY
Gaienmae
B7
SNOW CONTEMPORARY
Roppongi
Route C
C1
MUSEUM OF CONTEMPORARY ART TOKYO
Kiyosumi-Shirakawa
C2
HAGIWARA PROJECTS
Kiyosumi-Shirakawa
C3
C⇄D TRANSFER POINT (NIHONBASHI CROSSING)
Kyobashi
C5
NATIONAL MUSEUM OF MODERN ART, TOKYO
Takebashi
C6
TAGUCHI FINE ART
Mitsukoshi-Mae
C7
MUJIN-TO PRODUCTION
Kinshicho
C8
KANA KAWANISHI GALLERY
Kiyosumi-Shirakawa
SATOKO OE CONTEMPORARY
Kiyosumi-Shirakawa
Route D
D3
GINZA MAISON HERMÈS LE FORUM
Ginza
D4
TOKYO GALLERY + BTAP
Ginza
D6
TAKE NINAGAWA
Azabu-Juban
D7
NATIONAL ART CENTER, TOKYO
Roppongi
NCA | NICHIDO CONTEMPORARY ART
Roppongi
Route E
E1
NATIONAL MUSEUM OF MODERN ART, TOKYO
Takebashi
E2
MIZUMA ART GALLERY
Iidabashi
E3
MAKI FINE ARTS
Edogawabashi
Route F
F1
TOKYO OPERA CITY ART GALLERY
Hatsudai
F4
INFORMATION CENTER / AWT BAR
Omotesando
F5
NANZUKA UNDERGROUND
Harajuku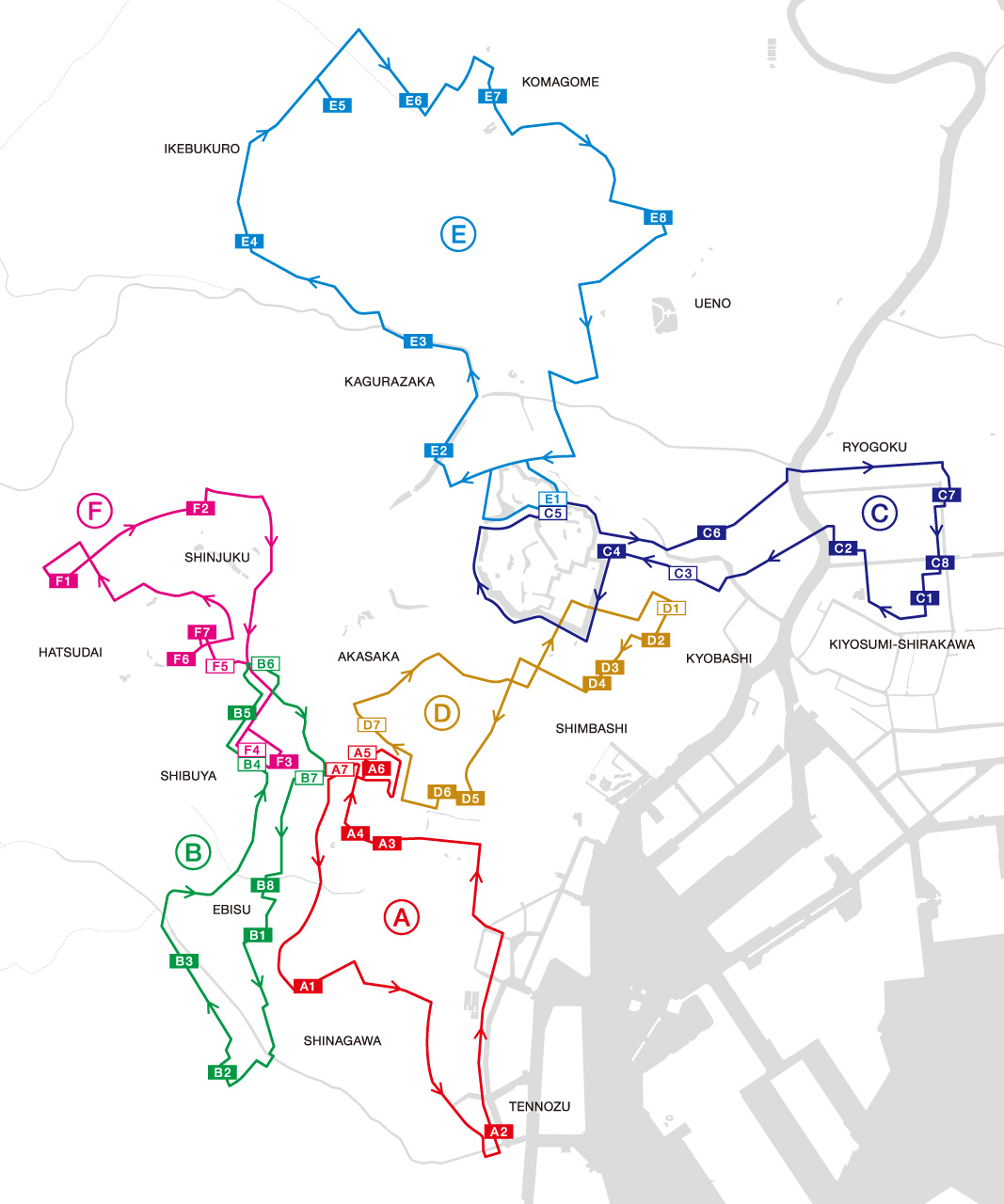 November 3–6, 2022
10AM–6PM
Download the free AWT PASS app to ride the bus
Buses run every 15 minutes across all routes
White bus stops indicate route transfer points