ART MEETS ARCHITECTURE, FOOD, AND DRINK
Open from 10am to midnight during the four days of Art Week Tokyo, the AWT Bar provides the city's art community a convivial gathering place in the heart of trendy Minami-Aoyama. Art Week Tokyo commissions an emerging architect to design the bar space, selects one of the city's top young chefs to produce new food creations for the menu, and invites featured artists to conceive original cocktails. Engaging all the senses, these commissions further deepen Art Week Tokyo's synergy with other creative fields as well as Tokyo's globally celebrated hospitality culture.
ARCHITECTURE: SUZUKO YAMADA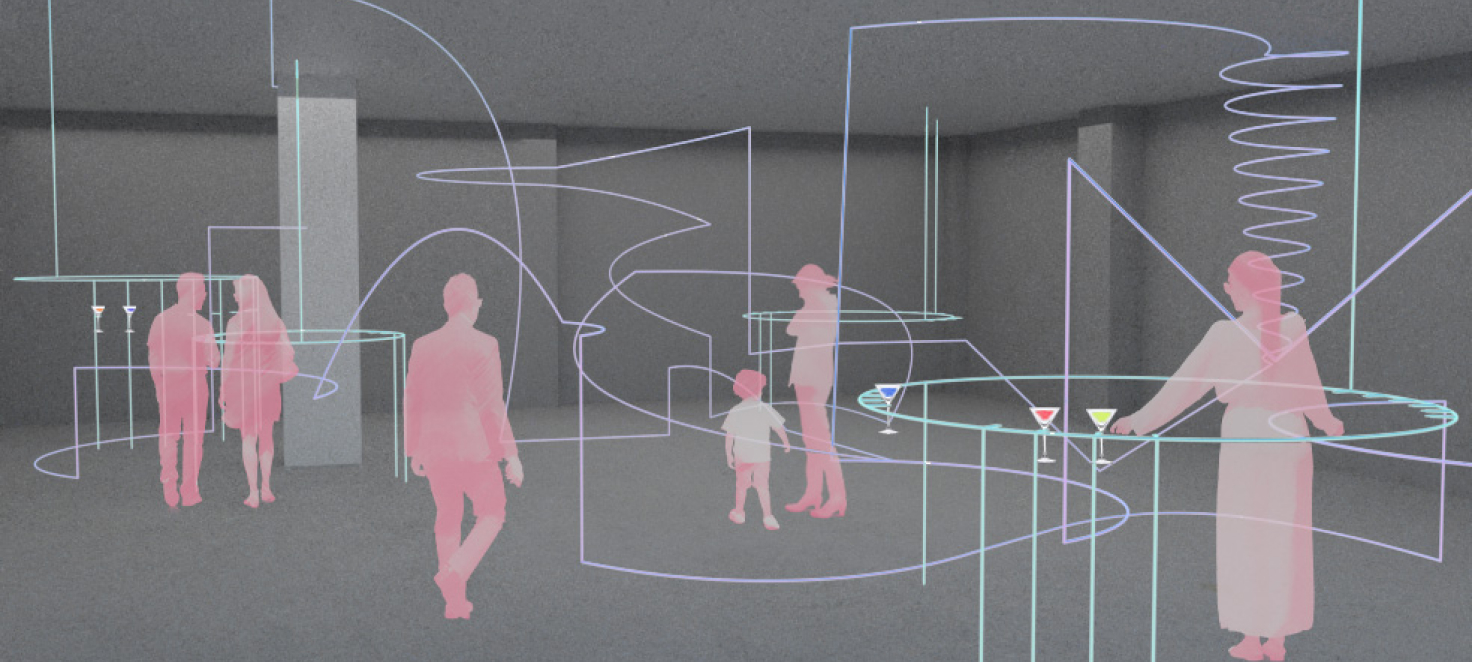 Make a bar. The first image that comes to mind is a bar with a row of stools and some lights floating overhead. Then come the drinkers sitting next to each other, glasses in hand, and a bartender mixing cocktails behind the counter. A bar is a space made by things and by people.

Things have all kinds of outlines, around which air circulates; and all those lines come together to generate both the flow and blockage of air. With this project, I want to isolate those outlines. Following the contours of all the things that compose the intimate space of a bar are 13-millimeter-thick steel rods, tracing outlines in the air. The empty space expands and contracts, as converging lines form the beginnings of depth perception.

Unlike planes and solids, lines do not have a strong relationship with their surroundings. Instead, they activate multiple possibilities around them. They can make a place appear open or confined, unified or disjointed. Our perceptions of a site constantly change depending on where we stand and the number of other people with us. Rather than letting things define the site, I envision lines coming together in a way that prompts each person to perceive the site for themselves.

Guests will set their drinks in holders extending from the bar. The rows of cocktail glasses suspended together in the air will add the finishing touch to this fleeting gathering place.

—Suzuko Yamada
Suzuko Yamada was born in Tokyo in 1984. She earned an MA in Architecture from Tokyo University of the Arts in 2013 after studying Environmental Information at Keio University.

Yamada established suzuko yamada architects in 2013. Her major projects include daita2019 (2019), which creates a cohesive living environment out of countless structural elements that bridge the concepts of interior and exterior; miyazaki (2022), which posits a form for a house as a collection of individuals; and a rest area for the upcoming Expo 2025 Osaka, Kansai, which will combine trees and artificial structures to form a holistic environment.

While still in graduate school Yamada won Grand Prize at the "Arts & Life: Where will we live tomorrow?" exhibition held in 2012 at the Tokyo Metropolitan Art Museum. She also received numerous accolades in 2020, including Grand Prize at the 3rd ADAN Prize, sponsored by the Architectural Design Association of Nippon; the 36th Yoshioka Prize, one of Japan's highest distinctions for emerging architects; and Gold Medal at the annual Under 35 Architects exhibition in Osaka. In 2022 she received the Architectural Institute of Japan's Young Architect Award for Selected Architectural Designs. She currently holds teaching positions at Kyoto University, Tokyo University of Science, Showa Women's University, and Hosei University.
AWT BAR
AWT BAR
AWT BAR
AWT BAR
AWT BAR
AWT BAR
AWT BAR
AWT BAR
FOOD: SHINSUKE ISHII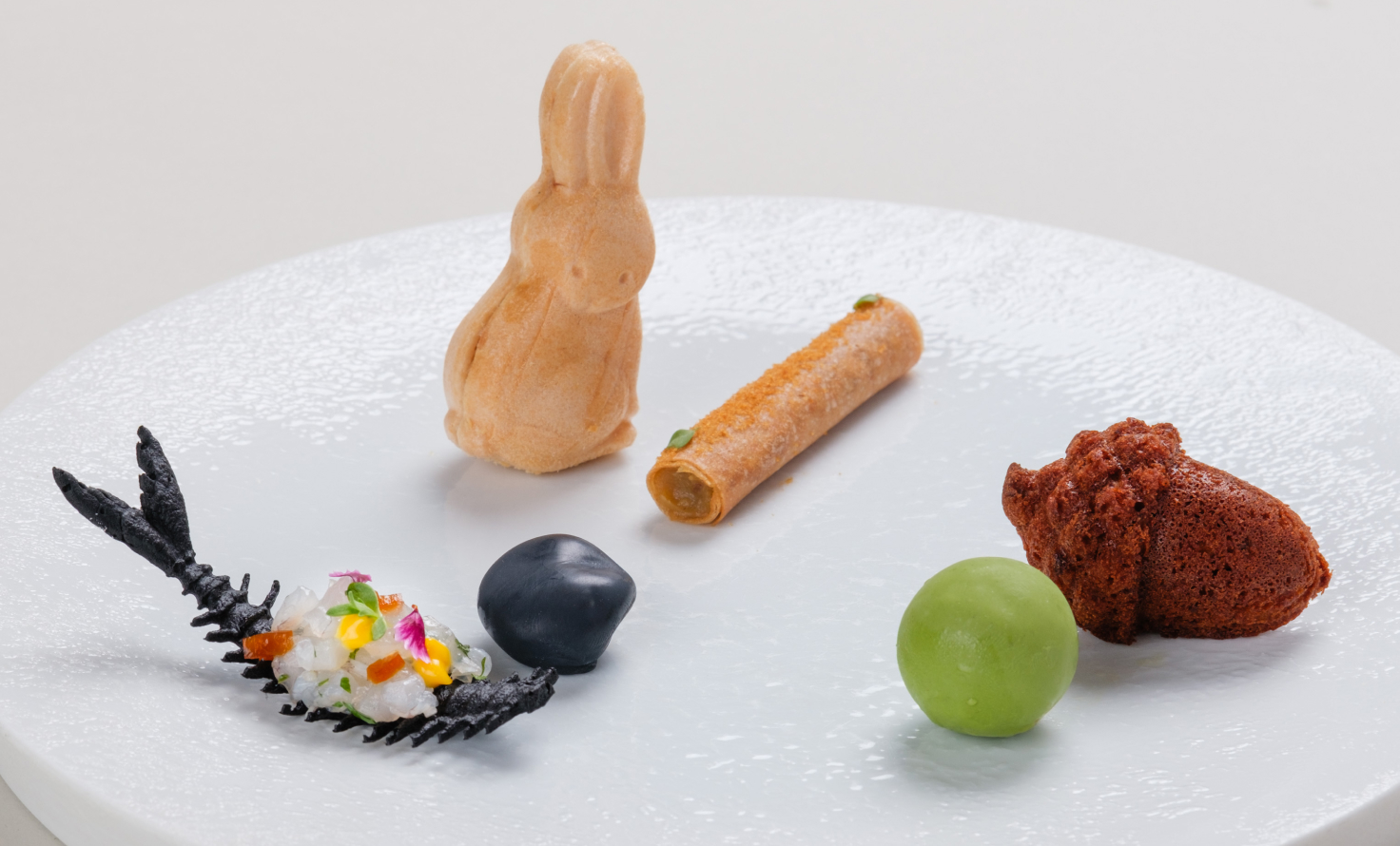 Japan is known for the changing beauty of its landscapes over the course of the year, while Japanese cuisine has long placed an emphasis on making use of seasonal ingredients grown in distinctive terrains. The country's culinary treasure trove needs protecting, and I often use my cooking to actively address environmental issues that concern food. For this special menu for the AWT Bar I have conceived three plates of finger food—each pairing a savory item with a sweet—inspired by the Japanese landscapes I love: forest, sea, and mountain.

— Shinsuke Ishii, Owner and Chef, Sincere
Rabbit Monaka

Monaka wafer shell filled with pork rillettes and stewed beef cheek. This charming treat marries a classic French appetizer with a traditional Japanese confection.

Sweet Potato Tuile

Baked sweet potato paste with fragrant pain d'épices and rum accents, squeezed into a crisp wafer cylinder.
Vanishing Fish

Bone-shaped cookie blackened over bamboo charcoal and topped with a tartare of bycatch dressed with lemon oil and saffron mayonnaise. Sounding the alarm about Japan's depleted fisheries, this twist on the canapé is intended to leave a slightly dark impression.

Chocolate Rock

Chocolate shell filled with coffee-flavored ganache and a touch of black shichimi spice blend from Kyoto.
Muscat Foie Gras

Mousse of foie gras blended with a hint of muscat jam and coated in cacao butter to resemble a grape.

Sweet Acorn

Madeleine baked from a batter mixed with Amazonian cacao and candied chestnuts. The cacao is supplied by Tetsuo Ota, another chef who is thinking about the future of food.
Shinsuke Ishii is the owner and chef of Sincere and Sincere Nº. He seeks to bring joy to the dining experience through an inventive, artistic approach to cuisine that is also healthy and respectful of nature. Ishii began his career in Tokyo at restaurants including Hotel de Mikuni and La Blanche before moving to France. In 2008, following his return to Japan, he was the founding chef of Restaurant Bacar in Shibuya. In 2016 he established his own restaurant, Sincere, in Sendagaya, which has been awarded a Michelin star every year since its opening and has also been awarded a Michelin Green Star for its sustainable practices. He followed this in 2023 by opening Sincere Nº in the new Hokkaido Ballpark F Village complex in Kitahiroshima, Hokkaido. Ishii is also the lead chef of Chefs for the Blue, an organization dedicated to the promotion of sustainable seafood.
ARTIST COCKTAILS
MASATO KOBAYASHI: LEMON COCKTAIL ON THIS PLANET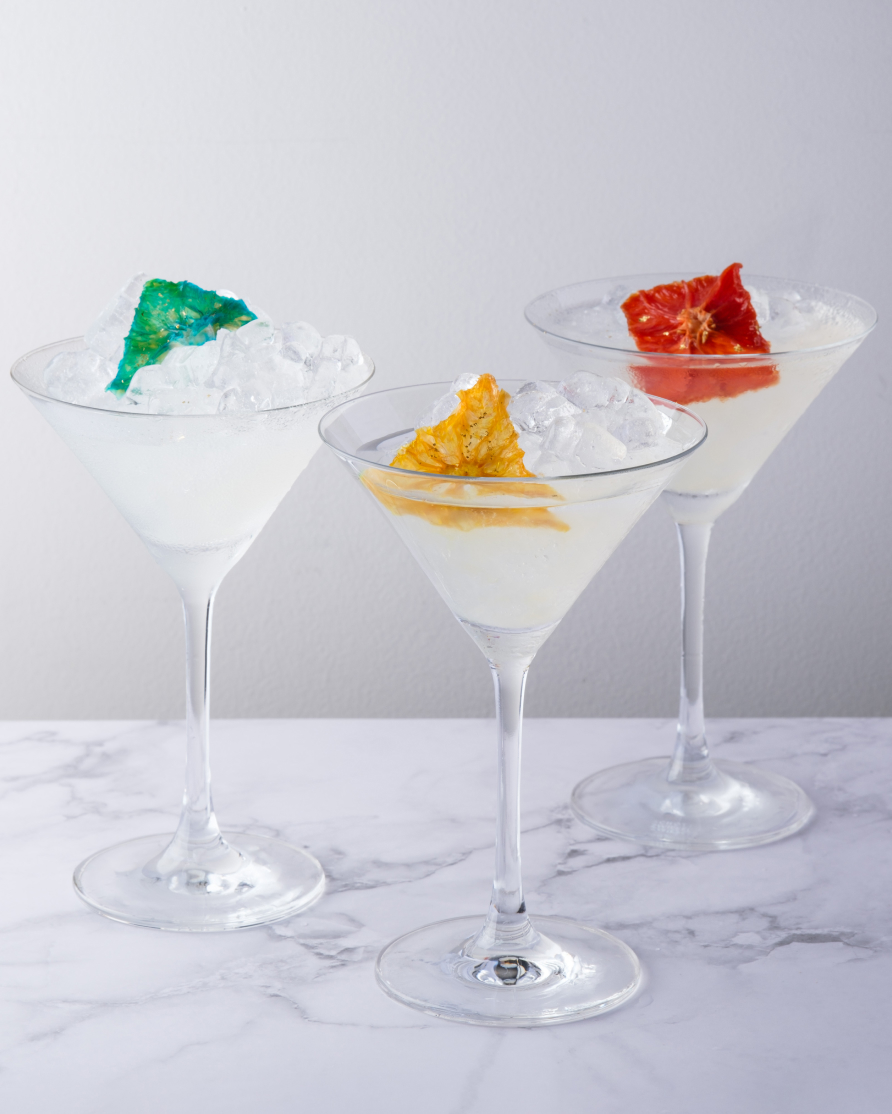 I make paintings on this planet with the paint of this planet, and that's how I envision making a cocktail too. I have lemons and limes growing outside my studio overlooking the Seto Inland Sea! See what happens when you put a (triangular or square) piece of a painting in your mouth…

Gin, fresh Setouchi lemon juice, Canadou Carib, dried fruit garnish
Masato Kobayashi was born in Tokyo in 1957 and is currently based in Hiroshima. He was previously based in Ghent, Belgium, after being invited there by Jan Hoet in 1997. Kobayashi represented Japan at the 1996 Bienal de São Paulo. He has held solo exhibitions at institutions including the Sezon Museum of Modern Art, Nagano (2012); the Nariwa Museum, Okayama (2009); Tensta Konsthall, Spanga, Sweden (2004); SMAK, Ghent (2001); and the Miyagi Museum of Art, Sendai (2000). He is represented by ShugoArts in Tokyo.

Kobayashi is currently working on a trilogy of autobiographical novels. So far they include Ko no hoshi no e no gu: Hitotsubashi Daigaku no ki no shita de (Paint of this planet: Under the tree at Hitotsubashi University, 2018) and Ko no hoshi no e no gu: Dafuhasudori 52 (Paint of this planet: Duifhuisstraat 52, 2020).

SAORI MIYAKE: NOWHERE IN BLUE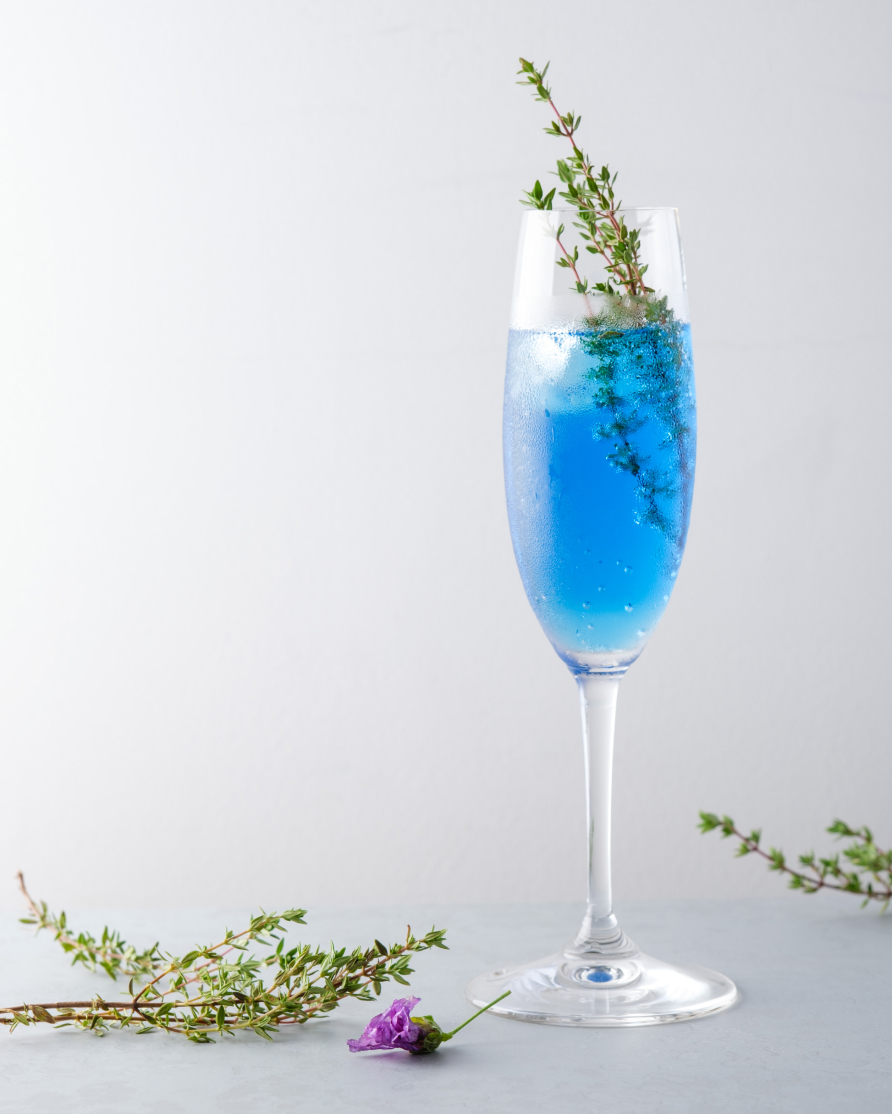 During the height of the pandemic, when the world seemed to have come to a standstill, I started going for walks in gardens and forests. As I wandered around looking at trees and rivers, I would suddenly be struck by a feeling that the landscape encompassing me was a kind of nowhere place. I had been experimenting with cyanotypes for some time without ever really exhibiting them anywhere and then one day, as though guided by sunlight, the photographs, AI-generated imagery, and native plants that I had been toying around with all came together: It was as if that nowhere place appeared right before my eyes in the form of a blueprint. That image is the inspiration for this light blue cocktail.

Absinthe, iced butterfly pea flower tea, soda
Saori Miyake was born in Gifu in 1975 and is currently based in Kyoto. She has held solo exhibitions at venues including the Museum of Fine Arts, Gifu (2021); Space TGC, Tokyo (2019); Waitingroom, Tokyo (2018); and Sai Gallery, Osaka (2017). Her group exhibitions include "Mirrorless Mirror" at gallery αM, Tokyo (2022); the Oku-Noto Art Triennale 2020+, Suzu, Ishikawa Prefecture (2021); the MOT Annual at the Museum of Contemporary Art Tokyo (2019); and the 20th Domani: The Art of Tomorrow exhibition at the National Art Center, Tokyo (2018).


Shinji Ohmaki: Vacuum Fluctuation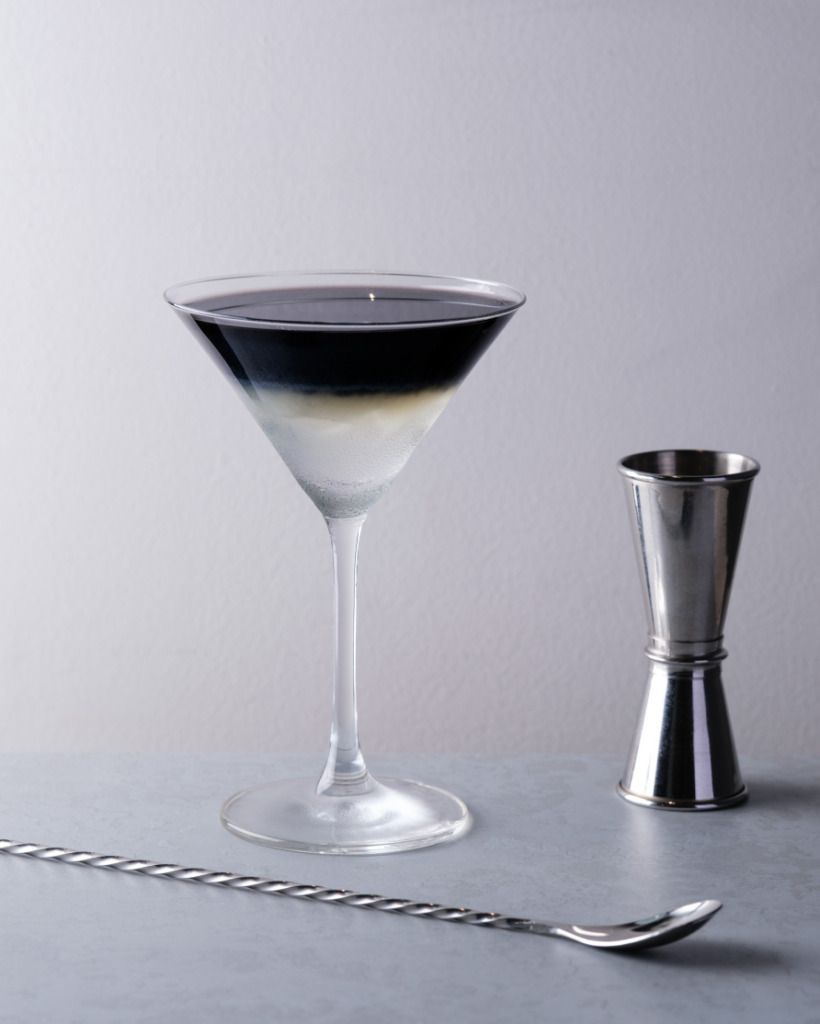 An invisible, spectral wave unfolds in infinite space. Vacuum fluctuation was the first phenomenon at the creation of the universe. Space was born when a single point of light inflated so acutely that it overtook the darkness.

I want to give people a sense of the new worlds that form when light and dark slowly merge in space-like silence.

Blavod black vodka, Aphrodite Black, fresh grapefruit juice, clear jelly
Shinji Ohmaki was born in Gifu in 1971. He makes immersive installations that explore the meaning of existence and embodied perceptions of space, time, and consciousness. Ohmaki has held solo exhibitions at institutions including the A4 Museum of Art, Chengdu (2023); the Hirosaki Museum of Contemporary Art (2023); the Kuandu Museum, Taipei (2020); the Hakone Open-Air Museum (2012); and Shiseido Gallery, Tokyo (2005). His work has also been featured in such major international exhibitions as the Echigo-Tsumari Art Triennale (2014), Asia Pacific Triennial in Brisbane (2009), and the Yokohama Triennale (2008). In recent years he has extended his practice to stage and performance projects at venues including the Aichi Prefectural Arts Theater (2023) and Yokohama Red Brick Warehouse (2019).