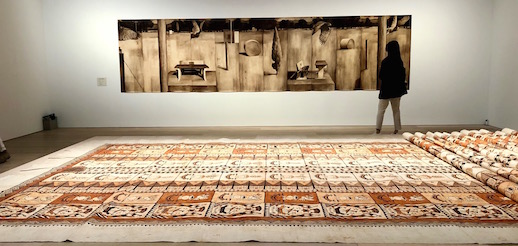 Tokyo Art Beat
2021年10月20日
ART WEEK TOKYO 2021: EXPRESSIONS AND ORIGINS
A look at how the Tokyo creative scene became what it is ahead of a new contemporary art fair — Jennifer Pastore
Tokyo was named "Best City in the World" in this year's Condé Nast Traveler Readers' Choice Awards, an honor reflecting the city's celebrated culinary culture and its famed mix of tradition and the cutting-edge. These features just scratch the surface of what Tokyo has to offer, however. One of its most remarkable assets is its creative scene, which this autumn hosts a new showcase. Art Week Tokyo (AWT), running November 4 though November 7, involves 50 leading museums and galleries. Organized with support from Japan's Agency for Cultural Affairs, the program is centered on artist-curated bus trips around the city. It looks to position Tokyo as "the first destination for contemporary art in Asia and beyond."
At the helm is Atsuko Ninagawa, director of the gallery Take Ninagawa. The AWT co-founder remarks, "Tokyo has a very high potential to become one of the world's most exciting locations for contemporary art. AWT aims to create a platform that provides easy access and promotes new infrastructures for art in the city. We hope to show the synergy between different art venues and their local environments."
Yung Ma, whose curatorial credits include the Centre Pompidou and the Venice Biennale Hong Kong Pavilion, has also been brought on board. His project Moving Voices will turn the Art Mobile bus into "a unique site for performative intervention." He will have help from the music collective Group Ongaku, the installation artist Yuko Mohri, the Fluxus and Group Ongaku veteran Mieko Shiomi, and the experimental dramaturge Akira Takayama. These four pioneering artists will contribute new and historic works dealing with voice, sound, and movement. Each is in charge of a different bus route, which will connect between 11 and 15 venues apiece.
Yuko Mohri's project on wheels explores Tokyo's social history through music in a radio-based tour. She states, "It's not widely known, but Japanese domestic pop songs also have a history of referencing social issues. Through these songs, whether major or from the underground, I will conjure the spirits inhabiting Tokyo."
Organized bus trips are a revelatory way to experience the Tokyo art scene, which unlike cities such as New York does not concentrate its museums and galleries in only a few districts. The creative world on display during AWT is the product of centuries of evolution – the Tokyo art scene predates even "Tokyo" itself, having flourished with the popularity of Ukiyo-e prints in the 17th century when the city was still known as Edo and not yet Japan's capital. After WWII, artists sought to shake off traditional, institutionalized forms of art and find new modes of expression. Avant-garde and radical developments such as Gutai and the Hi-Red Center collective emerged in the 1950s and early 1960s, followed by Mono-ha, which still commands fascination today. International trends in experimental art also took hold during this postwar period, with Japanese artists involved in movements such as Fluxus and Neo-Dadaism. In the mid-1970s and early 1980s, there was a "return to painting" after decades of conceptualism. The late 1980s and early 1990s saw the rise of Tokyo Simulationism, a "neo-pop" movement led by artists including Takashi Murakami, which gave way to Murakami's Superflat phenomenon at the turn of the century. Kaikai Kiki Gallery, Murakami's showroom for the Japanese and international artists he manages, will be one of the stops for the Art Mobile bus.
In the 1990s and 2000s, money left over from Japan's bubble years and a drive by artists to break away from entrenched gallery systems largely closed off to newcomers spurred new museum and gallery openings. Notably, SCAI The Bathhouse appeared in 1993, followed a decade later by Mori Art Museum. Both the public bath-turned-gallery and the 53rd-floor art institution in Roppongi Hills will participate in AWT.
The past 15 years have seen a takeoff in privately owned and artist-run galleries opening doors for emerging artists. Hideki Aoyama's Aoyama Meguro, which opened in 2007, represents an international roster of artists with conceptual and action-based leanings. Tomoko Ashikawa's Waitingroom has been discovering and championing young Japanese artists since it arrived on the scene in 2010. During AWT, Waitingroom will feature exonemo, an internet art collective who Ashikawa explains, "has been at the forefront of Japanese media art for 25 years. They're known for works that combine real and internet-based spaces." For this show, they've created a connect-the-dots book with pages on display at the gallery. Ownership rights to individual pages will be sold as NFTs to randomly selected buyers through a special website.
Ashikawa also notes an increase in alternative venues in recent years. "These experimental spaces not beholden to preexisting gallery systems are invigorating the entire art scene," she states. The artist-run gallery XYZ Collective, for example, will be showing work by its member Cobra, a video and installation artist.
There will be many other attention-worthy shows during AWT. Tokyo Opera City Art Gallery is holding a retrospective for the postwar illustrator Makoto Wada. Watari-um, a private contemporary art museum with a three-decade record of progressive shows, presents Pollinator, Yoichi Umetsu's self-curated exhibition of imaginative ceramics and paintings. Watari-um CEO Koichi Watari emphasizes, "There are many talented Japanese artists who still have not been introduced to overseas art scenes and markets."
This ever-expanding universe of Tokyo creativity offers views of Japanese art from diverse perspectives. While COVID-related travel restrictions mean this year's AWT will not have a large international audience, the Tokyo art scene remains alive and eccentric, ready to reclaim the world stage next year.