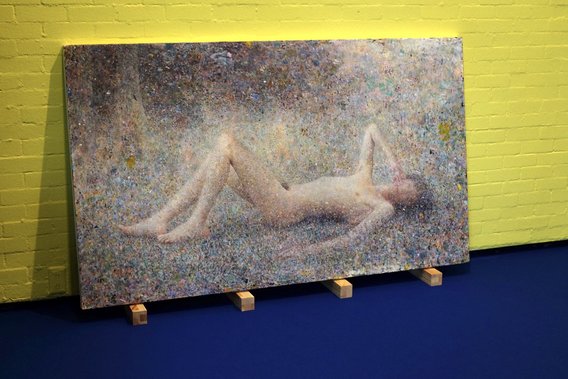 ArtAsiaPacific
2021年11月4日
WHAT'S SHOWING AT ART WEEK TOKYO
—the Editors
The first edition of Art Week Tokyo kicks off on November 4, with exhibitions at 50 galleries and museums—including major institutions such as the National Museum of Modern Art, Tokyo, and the Mori Art Museum—across four days. Organized by Japan Contemporary Art Platform in cooperation with Contemporary Art Dealers Association Nippon (CADAN), with support from Art Basel, the festival highlights a wide range of artists and spaces across the city to introduce audiences to more of the city's sprawling art. Along the way, bus routes connecting venues feature artworks including Yuko Mohri's audio tour told through pop music. Here's a look at a few of the exhibition highlights:
Yoichi Umetsu: "Pollinator"
Watari-um
Sep 16–Jan 16, 2022
Yoichi Umetsu's eclectic practice spans miniature drawings, pointillist paintings, performance videos, and ceramics. The artist's latest self-curated exhibition "Pollinator" features works created between 2004 and 2021 that model art as a means to help spread ideas and maintain biodiversity in the world. Alongside early acrylic paintings, the show also highlights ceramics produced during his residency at the ancient Shigaraki Kiln such as the comical, colorful farm animal Bottle Mail Ship (2021).
Kohei Nawa: "Tornscape"
SCAI The Bathhouse
Nov 2–Dec 18
Covering an entire wall at SCAI The Bathhouse, multimedia artist Kohei Nawa's latest video installation tornscape (2019– ) is a virtual landscape that resembles bubbling fluids. Nawa took inspiration from the classical text Hōjōki (An Account of My Hut), in which the writer Kamo no Chōmei documents the major disasters in the early Kamakura period (1192–1333 CE), and created the abstract, algorithm-generated scene as a metaphor for transience and uncertainty. In addition, Nawa's latest series of paintings Black Field (2020– ), produced with a mixture of oil paint and oil, capture material transformation and reflect the interconnectedness between artificial materials and natural forces.
Yasumasa Morimura: "M's Gift of the Sea: Auto-Mythology"
Artizon Museum
Oct 2–Jan 10, 2022
Yasumasa Morimura has dressed himself up as figures from the history of art since the mid-1980s. For the latest collaborative exhibition at Artizon Museum, Morimura paid tribute to the paintings by the modernist Shigeru Aoki featured in the Ishibashi Foundation Collection. Departing from Aoki's oil painting A Gift of the Sea (1904), which depicts a group of fishermen walking on the beach of the Boso Peninsula with sharks caught from the ocean, Morimura styled himself as multiple aristocrats strolling on the beach. In an iconic 2016 photographic print, he also disguises himself as the young Aoki, and plays Aoki in Auto-Mythology (monologue) (2021) where he gives a speech.
Akiko Hashimoto: "I saw it, it was yours."
Gallery Koyanagi
Sep 11–Nov 7
At first glance, Akiko Hashimoto's artworks appear to be pencil drawings on paper simply adhered to the wall by gray adhesive tape or arranged next to furniture under the dim lights. The detail-oriented drawings are sometimes folded or partially hidden, drawing the viewer's attention to the connection and distance between the visual elements and the exhibition space. At Gallery Koyanagi, Hashimoto combined ten new works into an interior scene, along with a large-scale pencil drawing created by tracing a curtain on paper.
Shinro Ohtake: "Mnemoscape"
Take Ninagawa
Oct 30–Dec 18
Shinro Ohtake's oeuvre spans assemblages, collages, mixed-media paintings, sculptures, architectural projects, films, and noise music. For his ongoing, over four-decade long project Scrapbooks (1977– ), he assembled found images from posters, book covers, newspaper, magazines, among other elements from the mainstream visual culture. Similarly, Ohtake's latest project Mnemoscape (2019– ) comprise a variety of materials such as sand, gravel, and layers of oil paint, which shapeshift from flat paintings to three-dimensional architectural models. He refers to this series of thick paintings as "the scenes that remain at the end of memory."
Kei Imazu: "Mapping the Land / Body / Stories of its Past"
Anomaly
Oct 2–Nov 7
Born in Yamaguchi prefecture and now based in Bandung, Kei Imazu creates massive canvases—up to two meters in height and six meters in length—from digital collages of found imagery transformed by graphics rendering software. The millennial-pink painting RIB (2021), for instance, uses images from a book about the lives of female artists, with a pair of large hands reaching toward one another, a giant skull, overlaid with distorted figures taken from magazines and artworks. A second large work, Memories of the Land/Body (2020) features plant leaves, small figures, a tiger, human vertebrae, and other elements collaged on top of a painting of the Javanese volcano Gunung Sumbing by the Dutch geologist Franz Wilhelm Junghuhn.
Shooshie Sulaiman: "Lore of Equator"
Tomio Koyama Gallery
Oct 22–Nov 20
"Inextricable with life" is how Malaysia-based artist Shooshie Sulaiman describes her practice. The exhibition features 100 Labu Sayong handcrafted water vessels made using traditional Malaysian pottery techniques alongside footage of the lone female ceramicist, Mak Nah, trained in this style. The second part of the show features Sulaiman's installation Lore of Equator (2021) with 11 baskets crafted through traditional techniques including Macan Organic plastic bag (2021), made from tapioca and bearing an image of an octopus.
Hilmi Johandi: "Landscapes and Paradise: Poolscapes"
Ota Fine Arts
Oct 2–Nov 20
Singapore painter Hilmi Johandi is showing new paintings and two installations based on pool scenes. Using old postcards and posters from the 1980s and '90s for these works, the artist gravitated toward imagery portraying Singapore as a tropical paradise. Johandi's collage-like compositions spill over into the middle of the gallery, where free-standing canvases become compositions in space, reflecting the fragmentary nature of these historical memories and associations.
Wahab Saheed: "Some Days Are Diamond"
Nanzuka Underground
Oct 8–Nov 7
Young Lagos painter Wahab Saheed brings vibrant colors and street style to his powerfully expressionistic portraits in "Some Days Are Diamond." Created in charcoal, Saheed's subjects regard the viewer with intensity, from a woman clutching a large stuffed bear in Reminds Me of Your Tenderness (2021) to another in a blue dress and orange hat holding a rose in Secret in Scars (2021). Together these portraits tap into the vibrant energy of Lagos while also letting the personalities of the subjects shine through.
Jun Nguyen-Hatsushiba: "While I am Dead – A Prelude to Life"
Mizuma Art Gallery
Oct 20–Nov 20
After several years of distance from the art world, Jun Nguyen-Hatsushiba returns with more than 200 black-and-white photographs taken in Houston where he currently lives and on trips to Tokyo in the pre-pandemic era. Visitors to the exhibition can take home one of the images, provided they replace it with a photograph from their own lives—which they can print out from their smartphones at the gallery to form a collective portrait of daily life.