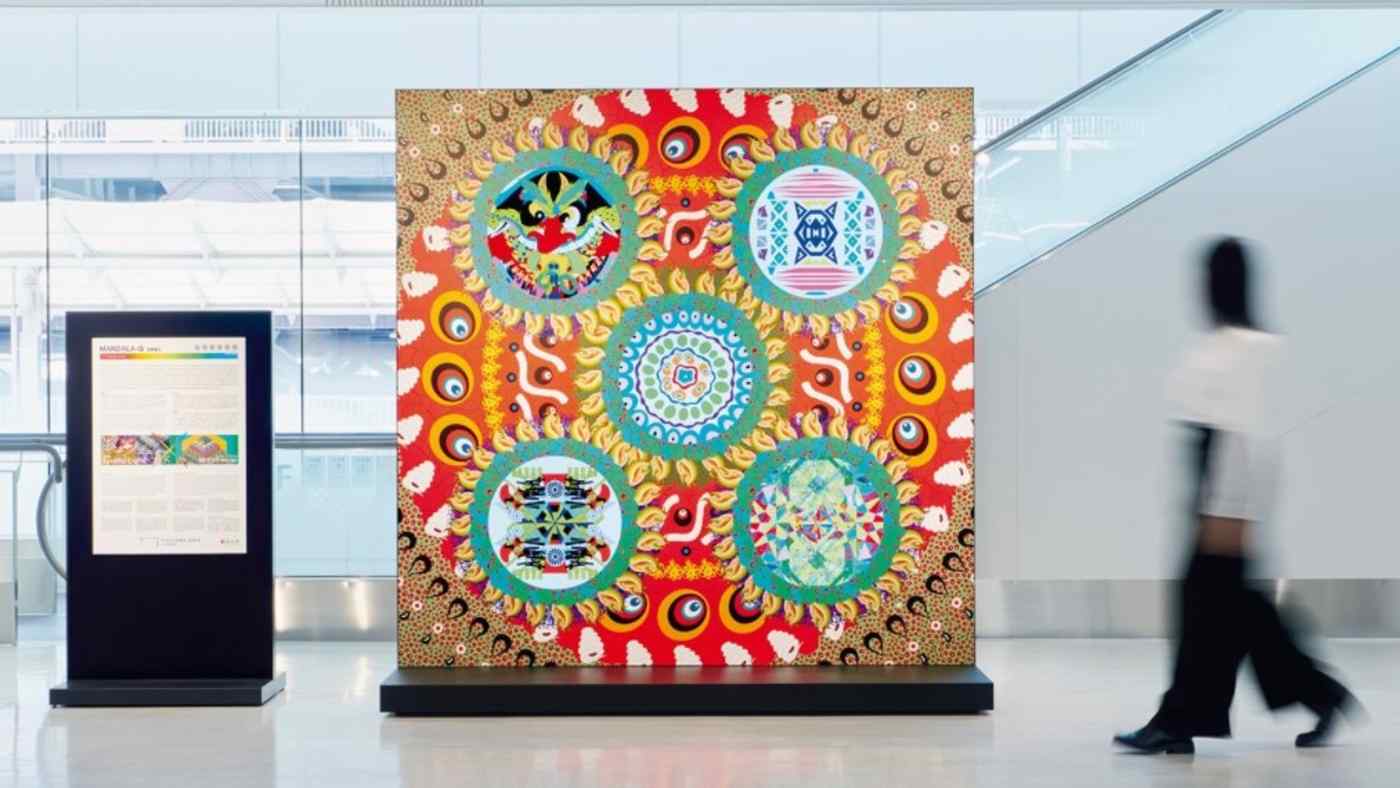 NIKKEI ASIA
September 24, 2021
JAPAN BOOSTS GLOBAL ART-HUB AMBITIONS
Government and private sector view culture as a growth industry —Michiyo Nakamoto
TOKYO -- Even from afar, the cluster of gold and black horn-shaped objects immediately captures the eye. Something about the way the horns are arranged, the color scheme and the size of the display -- towering in the cavernous hall -- screams "art."
Those curious enough to draw closer are rewarded by the sounds of mysterious whispers emanating from what turns out to be a multitude of speakers. The incongruity of coming across such a spectacle in a pristine airport terminal invites smiles and even wonderment. For "Crowd Cloud" is located at Tokyo's Haneda International Airport, which is hardly known for its artistic offerings.
Created by Yuri Suzuki, an artist and designer, and Miyu Hosoi, a musical/sound artist, "Crowd Cloud" is part of the Japanese government's ambitious new project to transform Tokyo into a global art hub.
"As an entry into Japan, airports such as Haneda can communicate what Japan has in terms of culture and art, and that is very meaningful," says Tetsuya Kawabe, senior managing director of the Haneda Future Research Institute, a subsidiary of Haneda's operating company. "Japan has tremendous cultural and artistic resources, which are underappreciated."
Airports are an ideal site for displaying art because when people arrive there, "it's a moment of absolute receptiveness," says Paola Antonelli, senior curator of architecture and design at the Museum of Modern Art in New York and the curator of the Haneda Airport exhibit, which is dubbed "Vision Gate."
The project to turn Haneda, and other airports, into art destinations is part of a long-term goal set by the Agency for Cultural Affairs to capitalize on Japan's cultural assets, particularly its contemporary art, to generate new wealth and international attention. If all goes to plan, "we believe a new industry will be born. Culture will become a big industry for Japan," says Kawabe.
The idea of turning an airport into an art hub may seem quirky, but Japan has come up with creative ways of using art to boost commerce over the years.
Department stores, for example, have been a major pillar of the art market, commanding nearly 35% of domestic art sales in recent years, according to the Japanese Art Industry Market Research Survey 2020.
Last year, department stores, which have teams of client relationship specialists who know their customers' tastes, sold 67.3 billion yen [$612 million] worth of art, slightly more than the amount sold in local art galleries, according to the same survey.
Works of art are also being used to boost regional economies as well as occupancy at hotels and resorts.
The Setouchi Triennale, held on 12 islands in the Seto Inland Sea, attracted nearly 1.2 million visitors during its three sessions in 2019 and generated 18 billion yen in revenue, according to the event organizers.
Despite such efforts, the Japanese art market remains minuscule compared with the world's three major art hubs -- the U.S., the U.K. and China.
Japan is the world's third-largest economy, but its share of the $64.1 billion global art market in 2019 was just 3.2%, compared with 44% for the U.S., 20% for the U.K. and 18% for China, according to the Art Basel and UBS Global Art Market Report.
This was not always the case. In the late 1980s, during its "bubble economy," when Japanese asset prices skyrocketed, Japanese collectors drove art prices up by acquiring major works, such as Van Gogh's "Sunflowers," which was bought by the Yasuda Fire and Marine Insurance (now Sompo Japan) for a then-record price of $39.9 million.
However, since Japan's asset bubble burst in the early 1990s, interest in buying art has been subdued and only five Japanese collectors made it into last year's "Top 200 Collectors" list compiled by ARTnews.
One problem is that Japan's tax regime does not provide compelling incentives to invest in art, such as those available in the U.S., where collectors can receive considerable tax deductions if they donate art to cultural institutions.
"The financial incentives that are in place to encourage people to buy art are not in place in Japan," say Misako and Jeffrey Rosen, owners of the Misako & Rosen gallery in Tokyo.
Japan also lacks enough cultured, wealthy individuals to support art investment, says Naohiko Kishi, representative director of the Art Tokyo Association and executive producer of Art Fair Tokyo, Japan's largest art fair.
For the majority of Japanese, the standard of living is so sophisticated and their everyday lives are already filled with so many beautiful objects, that "it raises the question: What do you need art for?" according to gallerists the Rosens.
But steps are being taken to stimulate Japan's art market by encouraging collectors, particularly international ones, to look to Japan as a key art destination and build an industry that can generate new wealth to support an aging society.
Regulations were relaxed last year to allow neighborhoods or even individual buildings to be designated bonded areas where art can be sold tax-free at galleries, auctions or art fairs as long as the art is not brought into Japan outside the bonded areas.
"We need to encourage the world's galleries, which were hesitant to come to Japan because of strict regulations, to come and do business here," Taro Kono, minister for administrative affairs, who has been urging development of Japan's art market, told the media last year.
Haneda Airport recently received government approval to become a bonded area and on Oct. 1, one of its halls will become the site of a major auction of contemporary Japanese art, including works by Yayoi Kusama, Yoshitomo Nara and Takashi Murakami.
The idea is that if international galleries and art fairs come to Tokyo, collectors and wealthy travelers would be enticed to visit Japan and "shine a light on new, young artists in Japan," Kono said.
In March, the Agency for Cultural Affairs launched Art Platform Japan, an online resource for information on contemporary Japanese art, much of which is being made available for the first time in English.
A new citywide initiative, Art Week Tokyo, will be held in early November with 50 galleries and museums participating, including the international galleries of Blum & Poe and Perrotin, to spotlight Tokyo's potential as an art destination.
Scenes from the 2021 edition of Art Fair Tokyo, Japan's largest art fair. Taro Kono, Japan's minister for administrative affairs, told the media last year that if international galleries and art fairs come to Tokyo, collectors and wealthy travelers would be enticed to visit Japan and "shine a light on new, young artists in Japan." (Courtesy of Art Fair Tokyo)
"I think Tokyo definitely has a whole lot of potential," says Adeline Ooi, the Asia director of Art Basel, the international art fair, which is advising Art Week Tokyo. "The infrastructure is there, Japan has some of the greatest institutions in the world, a huge taste for culture -- and who doesn't want to go to Tokyo?"
Despite the challenges posed by the coronavirus pandemic, the timing is right for Tokyo, says Kishi. With the Chinese government's crackdown in Hong Kong, "people will want to keep their art in a safer place, and Tokyo is respected as a safe place," he explains.
But in order to develop a sizable, international art market, the government needs to do much more, gallerists say. There is a need for coordinated measures, including a range of incentives to make it easy for international galleries to do business in Japan, says Sundaram Tagore, whose eponymous gallery in New York represents Hiroshi Senju, a contemporary master of traditional Nihonga painting.
In addition to low or no taxes on art sales, Japan could offer rent subsidies and help with overcoming the language barrier, he notes. Efficient logistics, a welcoming atmosphere and employees who are knowledgeable about art who can work in those galleries are also important.
The Rosens suggest that Japanese collectors should be encouraged with significant tax benefits to buy art. But educating the public about what constitutes "value" in art is also critical because Japanese viewers tend to focus on the visual aspects of a work of art, rather than the concept behind the visuals. Particularly with contemporary art, which can require specialist knowledge, this results in confusion over the value of specific works.
It is also important to cultivate a community of internationally minded critics and collectors who can stimulate discussions about art and culture because "people in the art world want to be in a liberal atmosphere where they can thrive and have a discourse," notes Tagore.
Even if Japan succeeds in stimulating its domestic art market and creating new momentum, it will be crucial to project this image overseas, say critics. In this respect, the media's role is vital in portraying the vibrant art scene in Japan. Unless Japan can deliver on multiple fronts, it risks losing out to other cities in becoming an international art hub.
"In a postindustrial society, if you want to build a world city you have to create a world culture," says Tagore. "It's not just Japan, but other countries that have learnt that as well."